I don't quite yet know. The Infibeam Pi could well be as good or better than an Amazon Kindle. But I do know (from what I hear) that there will be a market for Pi in India. This is an example of an Indian innovation for the Indian market. India needs more of such innovations to meet local domestic needs.
I categorise such innovations as innovations for national growth not only because it creates a new market but also it will pool in demand for new services and accelerate domestic consumption. The return of self reliance is not a bad thing in the current economic environment considering that there is a large number of people who can afford competitive prices. Like the Tata Nano which is primarily targetted at the domestic market, there is the potential for export too.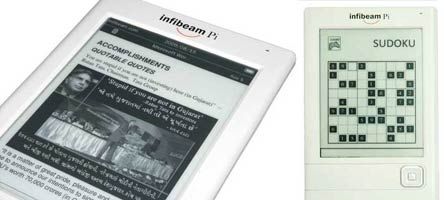 Picture Credit:
Onlygizmos.com
So what makes the Infibeam exciting?
Its slim & lightweight: Less than 10mm thick. Lightweight at 180 gm. Its lighter than a magazine.
Pi can store upto 500 ebooks in its internal storage. For the more voracious readers just add a SD card. A 4GB SD card will store upto 3000 books so that you will never miss your library.
Its an bundled offering with over 100,000 eBooks from Infibeam.com eBooks store. Buy an eBook from Infibeam's eBook store, download it to your Pi and start reading within seconds.
Reads Like A Book: With the 6" E Ink (R) display, when you read an eBook on Pi, you won't feel any difference from that of reading a paper book. The 8-level gray scale with no backlit display provides a crisp reading experience everywhere. Here's the big ticket item. Local Indian Language Support: Read your favorite texts in Hindi, Sanskrit and most official Indian languages.
If you enjoyed reading this, consider buying India's Innovation Blueprint